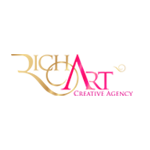 RichArt
Profitable Creativity
RichArt belongs to the new breed of creative agencies, fusing timeless business wisdom and the universal principles of creativity to create energetic brands of higher perceptual market value.
Integrating an unlimited scope of marketing, advertising and media services with the unique objective of making a significant impact on the clients' bottom line, we balance strategy and creativity on the high summit of visual communication.
Vision
RichArt's vision is to become one of the best boutique creative agencies in the region
Mission
RichArt stands for Profitable Creativity; poised on Reaching Objectives Through Innovation we are passionate about delivering the highest level of integrated creative solutions, while maintaining our clients' best interests as top priority.
Services
Branding & Corporate Identity.
Marketing Campaigns.
Advertising Campaigns.
Media Planning & Buying.
Public Relations.
Website Development.
Corporate Videos & Interactive Media.
Event & Exhibition Management.
Add Value Services.

www.richartcreative.com